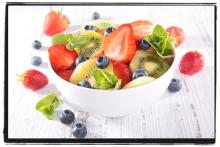 Fresh mint is the perfect addition to freshly cut fruit and melon. It's cool, it's refreshing, and it's delicious!
You need about 12 to 16 cups of various fruits and berries.
Choose any combination from the list below and enjoy!
seedless watermelon, cubed
cantaloupe, cubed
strawberries, quartered
red or green seedless grapes halved
blueberries
pears, thinly sliced
orange sections
kiwi, sliced
banana, sliced
raspberries
Fresh mint leaves, minced for full flavor or drop whole leaves in for the essence of mint, plus extra for garnish
Combine any of the above ingredients in a large bowl, then toss with fresh mint and serve.
That's all there is to it!
Refrigerate leftovers and enjoy them within two to three days.