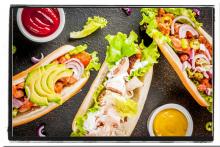 Carrot Dogs are amazingly delicious and a little healthier than the veggie dogs found at your local grocery store. Don't get us wrong, we love veggie dogs, and they have their place. But these carrot dogs are just too good not to share! And they're super easy to make!
4 to 6 bun length sized Carrots
2 1/4 cups of filtered water
1/4 cup soy sauce
1/2 teaspoon liquid smoke
1 teaspoon garlic powder
1 teaspoon onion powder
1 teaspoon prepared yellow mustard
1/4 teaspoon black pepper
4 to 6 hot dog buns
Toppings of choice
Cut the tops and tips off each carrot, then peel the carrots. If you like, you can take your peeler and shape the ends to round them out like an actual veggie dog.
In a saucepan that's wide enough to fit the carrots, add the water, soy sauce, liquid smoke, garlic powder, onion powder, mustard, and black pepper. Stir until combined, then add the carrots by laying them in a single layer. Bring the mixture to a bubble over medium-high heat, then reduce the heat to a simmer and cook for 10 to 15 minutes, or until the carrots are fork-tender but not too soft.
Remove the pan from the heat, cover, and let cool to room temperature. Transfer the carrots and the liquid to an airtight container and refrigerate overnight - up to 2 days.
Grill or pan-fry the carrot dogs when you're ready by placing them onto a hot indoor or outdoor grill rack or into a lightly oiled frying pan over medium heat. Turn the dogs as needed to get a golden seer on all sides, about 5 minutes or so.
Serve the carrot dogs on a bun and garnish with mustard, ketchup, veggie chili, onions, sauerkraut, mushrooms, avocado, etc. The possibilities are endless, not to mention delicious!