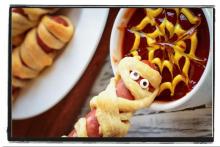 Halloween is a great time to create a batch of Mummy Dogs, but honestly, kids will love this fun appetizer/meal any time of year!
Here's what you need:
1 package of Smart Dogs 8 to 10 (or other vegan hot dogs or sausages)
1 tube of original Pillsbury crescent roll dough
20 Candy Eyes
or vegan mozzarella cutouts/black olives (We'll go over this in more detail below).
Preheat the oven to 375° Cover a large baking sheet with parchment paper.
Open the crescent rolls and unroll the dough, separating the triangles. Using a pizza cutter, cut the dough into 1/4-inch wide strips.
Use the strips of dough to create the "bandages" by wrapping them, one at a time, around each dog. Then, crisscross them "mummy-style," remembering to leave a 1/2 to a 1-inch wide opening on the top of each dog; this is where you'll place the "eyes" after baking.
Place each mummy dog on the prepared baking sheet and bake for 12 to 14 minutes until the dough is golden brown.
Remove from the oven and allow to cool for 3 to 5 minutes before adding the eyes. At this point, you have a couple of options. You can either put a dot of ketchup on the back of each candy "eye" and adhere two of them in the space you left on the top of each dog - or you can use vegan cheese cutouts and olives.**
Fill a ramekin with ketchup and squirt two mustard circles on the top with a dot of mustard in the middle for the dipping sauce. Then, using the edge of a knife and starting on the outside, draw the knife blade through each mustard line a half-inch or so apart to create a "web" effect.
** If you're using mozzarella cheese and black olives for the mummy's eyes, you'll need two different-sized straws. (We've used a regular size straw - and a small cocktail-sized straw). First, use the regular-sized straw to cut out the whites of the eyes (the cheese). Next, use the cocktail-size straw to remove a small hole in the cheese and to cut out the "pupils" (the olives), this takes some patience, but it's super cute.
If you're looking for a shortcut (and there's no shame in that), put a dot of mustard or ketchup in place of the eyes - and call it good! They'll still be adorable!