Category
Sauces, Dips, Dressings & Spreads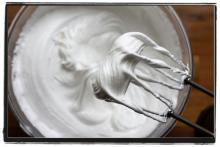 Vegan Marshmallow Cream is as easy as 1, 2, 3 . . . 4 ingredients, and it's delicious when used for - or added to dessert dips or toasted for s'mores!
Here's what you need:
1/2 cup sodium-reduced aquafaba (liquid from a can of sodium-reduced chickpeas).
1 teaspoon vanilla extract
1/2 teaspoon cream of tartar
3/4 cup granulated sugar
Add the aquafaba, vanilla, and cream of tartar to a stand mixer or large mixing bowl.
Using the mixer or hand mixer, beat the liquid for a minute or two until the mixture thickens and forms soft peaks.
Slowly begin adding the sugar while continuing to beat the mixture. Mix for 10 to 12 minutes until stiff peaks are formed.
This marshmallow cream is best if used immediately, or you can store it in a sealed container in the refrigerator for later use.
If the cream separates while stored in the fridge, give it a whisk to return to its original state.