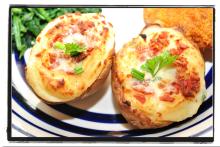 A twice-baked potato is one of the most excellent types of comfort food there is. Potato, vegan butter, cheese, and bacon. How could it not be?
Here's what you need:
4 medium organic russet potatoes
1 tablespoon extra virgin olive oil
1 teaspoon each, kosher salt and garlic powder
4 tablespoons Earth Balance (Vegan Butter)
1/3 cup yellow onion, diced
1/3 cup red bell pepper, diced
1 1/2 cups vegan cheddar cheese (any cheese will do), shredded
6 ounces vegan sour cream or plain vegan yogurt
1/2 teaspoon each; salt, pepper, and garlic powder
freshly chopped chives or parsley
2 to 3 strips of vegan bacon, chopped (optional)
Preheat the oven to 400°
Wash and pat dry all of the potatoes, then pierce them several times with a fork. Drizzle a bit of olive oil onto each potato, then rub to coat the skin evenly. Sprinkle with a bit of kosher salt and garlic powder; turn and repeat on the other side. Place the potatoes in the oven and bake for 1 hour or until the potatoes give when gently squeezed.
Meanwhile, melt the butter in a small saucepan. Add the onion and cook for about 5 minutes, stirring occasionally. Add the bell pepper and cook for another 5 minutes, then remove the pan from the heat and set it aside.
Take the potatoes out of the oven and let them stand for about 15 minutes, or until they're cool enough to handle. Then cut each potato in half and scoop out the potato flesh into a food processor. Add the melted butter and vegetable mixture, shredded cheese, sour cream, salt, pepper, and garlic powder. Pulse until it all comes together and is well combined.
Fill the potato skins with the potato mixture, then top with vegan bacon if using. Return to the oven and bake for 20 to 25 minutes.
Garnish with fresh chives and parsley.