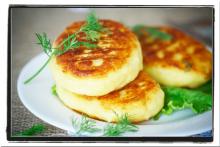 Stuffed potato cakes are pretty incredible! Not unlike mashed potatoes, they're comfort food you can enjoy anytime!
Here's how we made them:
2 pounds of russet potatoes
1/2 cup rice flour
1/4 cup cornstarch
salt and pepper, to taste
3 cups portobello mushrooms
1 small yellow onion
1 red bell pepper
1 large clove of garlic, crushed
salt and pepper, to taste
vegan mozzarella, or another of your favorite type of cheese
canola or vegetable oil for frying
The dough
Wash and peel the potatoes, cut them into 1-inch cubes, and rinse well. Add them to a pot of cold water and bring them to a boil. Reduce the heat to a simmer and cook for 10 to 15 minutes until the potatoes are tender.
Next, strain the potatoes and return them to the pot. Add flour, cornstarch, salt, and pepper to taste, and mix the ingredients using a potato masher.
The potato dough should hold together when squeezed in the palm of your hand. If it's too dry, add a tablespoon of water until you have the right consistency. Set the dough aside.
For the filling
Clean the mushrooms with a damp cloth, chop them very finely, and set them aside. Cut the onion and bell pepper into small dice. Crush the garlic or mince. Saute the onion and bell pepper for about 3 to 5 minutes until tender, then add the mushrooms. Saute for another 8 to 10 minutes, then add the garlic. Allow the mixture to cook for another couple of minutes until all the vegetables are tender and the garlic is fragrant—season with salt and pepper to taste.
Time to assemble
Take 1/2 cup at a time of the cooled dough and roll it into a ball. Make a well in the middle with your thumb and add two tablespoons of filling and a teaspoon of cheese—seal, using a little more dough as necessary.
Continue with the rest of the dough and filling until you have about 8 to 10 potato cakes ready to fry.
Preheat your oven to 400° now.
Heat a large skillet over medium heat, then add 2 to 3 tablespoons of oil to the pan. Place 4 to 5 potato cakes in the skillet and cook on both sides until golden brown.
Place the potato cakes on a large baking sheet covered with parchment paper, and place the baking sheet on the center rack in your oven. Bake for 10 to 15 minutes, turning the potato cakes once halfway through the cooking time.
Enjoy warm. Serve with sour cream and garnish with fresh parsley, dill, or chive.
Refrigerate any leftovers.