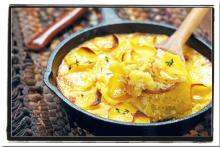 These potatoes au gratin are creamy, cheesy, crispy on top, and delicious!
1 clove garlic halved, then minced or crushed
6 Yukon gold potatoes, peeled and sliced to 1/8-inch thick
2 cups unsweetened non-dairy milk
1/8 teaspoon nutmeg
1 teaspoon salt
1/2 teaspoon freshly ground black pepper
1 tablespoon brown rice, AP, or whole wheat flour
1/2 cup nutritional yeast
4 tablespoons of melted vegan butter
Preheat oven to 400°
Coat a large cast-iron skillet or an 8 x 8 x 2-inch baking dish with cooking spray, then rub the inside of the pan with the cut side of the garlic clove.
Mince or crush the garlic halves and place them in a large saucepan with potatoes, milk, nutmeg, salt, and pepper.
Bring the mixture to a boil, then reduce the heat to medium-low. Simmer for about 5 minutes or until the potatoes are just slightly tender. Remove the saucepan from the heat.
Transfer the potatoes into the prepared baking dish using a slotted spoon, reserving the milk in the pan.
In a medium bowl, whisk together the flour and nutritional yeast. Then slowly whisk the flour mixture into the remaining milk until the sauce is smooth.
Pour the mixture over the potatoes. Drizzle with melted butter.
Cover with foil and bake for 35 to 40 minutes. Remove the foil and bake for an additional 15 to 20 minutes until the top is beginning to brown.