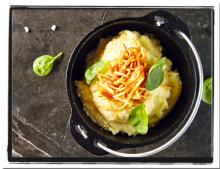 Cheesy Mashed Potatoes are what the Lord created on the 8th day. We think He probably created pizza the day after that.
4 cups organic yellow or baby red potatoes, skin on, large dice
4 tablespoons earth balance butter
1/3 cup unsweetened non-dairy milk
2/3 cup vegan cheddar cheese, shredded
salt & pepper to taste
Garnish with freshly chopped chive or crispy fried onions
Scrub the potatoes and dice them into 1 to 1 1/2-inch pieces. Next, fill a pot with cold water and rinse the potatoes well. Let them sit for a bit to pull out some of the starch, if possible. Then drain, and fill the pot again with cold water.
Heat to boiling over medium-high heat, and continue to cook until the potatoes are fork-tender, approximately 8 to 10 minutes.
Remove the potatoes from the heat and strain off all the water.
Add the butter and mash the potatoes using a potato masher. Next, add the creamer and cheese and mix until combined.
Season with salt and pepper to taste, and garnish with freshly cut chive or crispy fried onion.