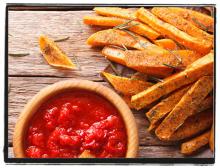 With these sweet potato fries, you get the best of everything. They're slightly sweet, perfectly seasoned, soft on the inside, crispy on the outside, and oh my goodness, the dipping sauce is amazing!
For the Fries
2 to 3 sweet potatoes, skin on and cut into wedges
3 tablespoons extra virgin olive oil
1/2 teaspoon poppy seeds
1/2 teaspoon sesame seeds
generous pinch of kosher salt
freshly ground black pepper
Dipping Sauce
1 roasted red bell pepper, or use jarred
1/4 cup ketchup
1/4 cup chopped fresh cilantro (1/2 reserved)
1/2 teaspoon smoked paprika
1/4 teaspoon red pepper flake
pinch of kosher salt
freshly ground black pepper to taste
Drizzle the sweet potatoes with three tablespoons of extra virgin olive oil, then sprinkle with poppy seeds, sesame seeds, salt, and pepper. Toss to coat. Place the potato wedges onto a baking sheet in a single layer and bake at 400° for 25 to 30 minutes, until golden brown.
Meanwhile, put the roasted red bell pepper, ketchup, 1/2 of the cilantro, smoked paprika, and red pepper flake into a Food Processor
or a Mini Food Chopper
if you have one. Blend until mostly smooth, but with some texture remaining. Season to taste with salt and freshly ground black pepper. Spoon the mixture into a small serving bowl and place it on a serving plate.
Remove the potato wedges from the oven and arrange them on the plate. Serve with dipping sauce.