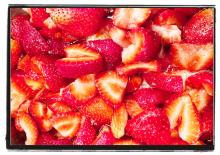 This strawberry sauce is one of those sauces you'll want to have over nice cream, pancakes, waffles, air, pretty much anything. It's super simple to make, hence the name, and it's delicious.
Here's all you need:
1 pound of fresh organic strawberries, rinsed, hulled, and halved
1/3 cup sugar
1 tablespoon fresh lemon juice
Combine the strawberries, sugar, and lemon juice in a saucepan over medium heat and bring the mixture to a boil.
Reduce the heat to a simmer and continue cooking, stirring gently and occasionally for about 20 minutes until the sauce thickens.
No need to smash the strawberries; they will cook down to the perfect size on their own.
Remove from the heat and let the sauce cool. It will thicken more as it cools.
Use immediately or refrigerate and enjoy within 2 to 3 days.