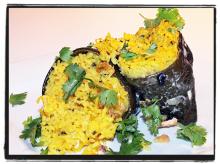 This dish is no doubt a crowd-pleaser. However, even non-vegans will enjoy the flavors of this dish with its textures and delicious spices.
2 cups uncooked rice
4 cups water
1 teaspoon kosher salt
1 teaspoon turmeric
1/3 cup cilantro, finely chopped
1/4 cup extra-virgin olive oil
1 1-pound package Lightlife Gimme Lean Sausage
1/3 cup sweet red bell pepper, diced small
1/3 cup onion, diced small
1 stalk celery, diced small
1 clove garlic, minced
1 cup black beans, drained and rinsed
1 cup corn kernels, fresh or frozen
1 cup vegan mozzarella, shredded
6 fresh poblano peppers, cored and seeded. (Cut the top stem off and open the entire top so you can stuff the pepper)
Add the water, salt, turmeric, and rice to a medium saucepan and bring it to a boil. Cover and reduce the heat to a simmer. Follow the cooking instructions for your particular chosen rice.
When the rice is cooked, fluff with a fork and stir in the cilantro. Set it aside.
Next, heat the olive oil in a large skillet over medium-high heat. Add the sausage, bell pepper, onion, celery, and garlic.
Cook, stirring continuously for about 12 to 15 minutes. Use the back of a spatula to break the sausage into smaller pieces.
Stir in the beans, corn, and cheese and continue cooking another 3 to 5 minutes or until the cheese has melted. Remove from heat.
Preheat the oven to 375°
Divide the sausage mixture among the peppers and fill. Then, top with the cooked rice.
Line a 9 x 13-inch glass baking dish with parchment or use non-stick cooking spray. Arrange the stuffed peppers in a single layer, spooning any remaining sausage mixture and rice over the top of the peppers.
Cover the dish with foil, and bake for 1 hour, or until peppers are tender and soft when pierced with a fork.
Let rest 10 minutes before removing the foil.
Serve hot with vegan sour cream and Sriracha or other hot chili sauce.
Serves 4 - 6