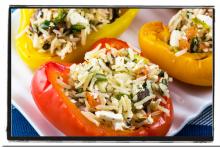 Stuffed peppers are delicious and easy to make! This recipe is vegan and gluten-free.
2 1/2 cups vegetable broth
1 cup uncooked long-grain or wild rice
1 tablespoon olive oil
3/4 cup onion, small dice
1 small zucchini, small dice
2 cups baby Bella or other mushrooms, small dice
2 Roma tomatoes, seeded, small dice
4 large cloves garlic, crushed
1/3 cup dry white wine
1/2 cup walnuts, finely chopped
1 1/2 teaspoons Herbes De Provence
salt and freshly ground black pepper
3 large bell peppers, any color
1/2 cup of vegan pepper jack cheese
Preheat the oven to 350°
In a medium saucepan with a tight-fitting lid, bring the broth to a boil. Add rice, reduce heat, and cover. Simmer 45 to 50 minutes, or until the rice is tender and the liquid is absorbed.
Cut the bell peppers in half lengthwise. Remove the core and the seeds. Take one half and dice it into small pieces.
Heat the olive oil in a large skillet over medium heat. Add the onion and the diced bell pepper and sauté for about 2 to 3 minutes. Add the zucchini, mushrooms, and tomatoes and saute another minute, then stir in the garlic. Continue to cook 4 to 5 minutes more, occasionally stirring, until the vegetables are tender.
Stir in the wine and let it cook down for one to two minutes. Add walnuts, herbs, and prepared rice. Stir until well combined and remove from the heat. Stir in the pepper jack cheese and season with salt and pepper to taste.
Fill each pepper with the rice mixture, adding a bit of cheese to the top. Place the peppers stuffing side up in a baking dish. Pour a small amount of water into the bottom and drizzle the peppers with a little bit of olive oil.
Cover with foil and bake for 30 minutes. Uncover and return to the oven for an additional 10 to 15 minutes.