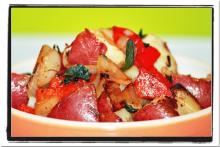 Roasting vegetables are one of the best ways to bring out their flavor. The potatoes get a gentle start in some boiling water in this recipe, keeping them deliciously moist through the roasting process.
8 medium red potatoes, halved and quartered
1 red bell pepper, halved, seeded, and thickly sliced
1 small yellow onion, thickly sliced
2 large fresh basil leaves, cut into ribbons
2 tablespoons extra virgin olive oil
sea salt & pepper
Preheat the oven to 400° F
Bring a large saucepan of water to a boil, add a generous pinch of salt and the potatoes. Return the water to a boil and cook for 3 to 5 minutes.
Strain and transfer the potatoes to a roasting pan. Drizzle one tablespoon of the oil over them and turn to coat—roast in a preheated oven for 8 to 10 minutes.
Remove potatoes from the oven and add the sliced bell pepper, onion, fresh basil, remaining one tablespoon of olive oil, a sprinkling of sea salt, and a dash of pepper. Toss gently and return to the oven.
Roast for an additional 25 - 30 minutes turning the vegetables halfway through until tender and the edges are slightly charred.
Season again with salt and pepper to taste.