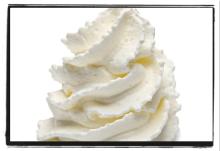 Just because you're vegan doesn't mean you can't enjoy a deliciously rich and creamy whipped topping.
2 (14-ounce) cans of full-fat coconut milk
1/3 cup powdered sugar
1/2 teaspoon vanilla extract (optional)
Chill the coconut milk in the refrigerator for about 4 - 12 hours. Chill the whisk attachment and mixing bowl in the fridge as well.
When you're ready, attach the chilled whisk attachment to the mixer.
Open the chilled cans of coconut milk, being careful not to tip, stir, or shake the contents inside.
Carefully scoop the top thick 'cream' from the coconut milk inside the can; reserve the remaining coconut milk/water for smoothies or other recipes and place the thick coconut cream in the chilled mixing bowl.
Add the powdered sugar and the vanilla if using.
Whip with an electric mixer for 1 to 2 minutes, or until thick, smooth, and creamy.
Use immediately or cover and refrigerate and enjoy within one week.