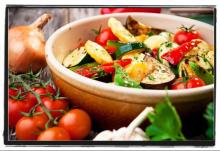 This recipe makes a large batch of roasted veggies - but we love them, so we always make a lot. You can adjust the number and variety of vegetables to suit you.
Here are some of our favorites to roast.
3 cups brussels sprouts
8 medium carrots, cut on the bias
2 cups broccoli florets
2 cups cauliflower florets
1 red, green, or yellow bell pepper, seeded, large dice
1 red onion, cut into chunks
1 cup mushrooms
1 cup grape tomatoes
1 cup zucchini, halved
2 tablespoons EVOO (or you can substitute herb-infused oil)
2 cloves garlic, minced
1/2 teaspoon thyme
1/2 teaspoon rosemary
1 teaspoon salt
1/2 teaspoon freshly ground pepper
Preheat oven to 400°
Prepare the veggies and place them in a large bowl.
In a small bowl, stir together the olive oil, garlic, thyme, rosemary, salt, and pepper.
Pour the mixture over the veggies and toss to coat evenly.
Place the vegetables on a sheet pan (or two if necessary) and roast for 25 to 30 minutes until the vegetables are tender.
Turn the vegetables halfway through the cooking process.