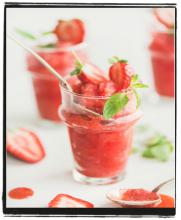 These Fruit Slushies are so refreshing and delicious that you might be tempted to make them throughout the year! And, don't worry, they'll be just as good no matter when you choose to enjoy them.
Here's what you need:
6 cups of cubed, seedless watermelon
2 cups of fresh strawberries, halved
1 cup fresh raspberries
Juice of 2 limes
2/3 cup of turbinado or raw sugar
Add all of the ingredients to a Blender and blend at medium-high speed for about 30 to 45 seconds, or until well blended.
Pour into 4 to 6 single-serving cups and freeze for 3 to 4 hours or until mostly frozen and slushy.