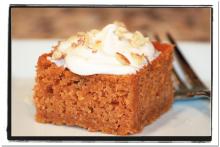 3 vegan eggs, we recommend VeganEgg
by Follow Your HEART.
1 2/3 cups granulated sugar
1 cup vegetable oil
1 15-ounce can pumpkin
1/2 teaspoon vanilla
2 cups sifted unbleached all-purpose flour
2 teaspoons baking powder
2 teaspoons ground cinnamon
1 teaspoon salt
1 teaspoon baking soda
1/2 teaspoon freshly grated nutmeg
Combine the prepared 'eggs.' (follow the Baking With VeganEgg instructions on the package), sugar, oil, pumpkin, and vanilla in a large mixing bowl. Blend on medium speed with an electric mixer until light and fluffy.
Sift together the flour, baking powder, cinnamon, salt, baking soda, and nutmeg in a separate bowl.
Add the dry ingredients to the pumpkin mixture and mix at low speed until thoroughly combined and the batter is smooth.
Spread the batter into a greased 13 x 9-inch baking pan. Bake at 350° F., for 35 to 38 minutes, until a toothpick inserted into the center comes out clean. Cool completely.
Cut into bars and add icing to individual servings before serving.
Icing
8-ounces vegan cream cheese
1/2 cup vegan butter
2 cups sifted confectioners sugar
1 teaspoon vanilla
1 teaspoon freshly squeezed lemon juice
Combine the cream cheese, butter, sugar, vanilla, and lemon juice in a mixing bowl. Mix on low speed until combined, then on medium-high speed for 3 to 4 minutes until light and fluffy. Spread on cooled pumpkin bars.
Sprinkle bars with chopped walnuts (optional).