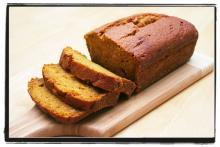 When your home fills with the aroma of this bread, grab your hard hat and brace yourself because everyone's about to come running. Cinnamon. Clove. Nutmeg. Yep. Here they come!
4 1/2 teaspoons Ener G Egg Replacer
(the equivalent of 3 eggs)
6 tablespoons water
2 cups granulated sugar
1 1/3 cups unsweetened applesauce
1 14-ounce can of pumpkin puree
1 teaspoon vanilla
3 cups unbleached all-purpose flour
1 teaspoon ground cloves
1 teaspoon ground cinnamon
1 teaspoon nutmeg
1 teaspoon baking soda
1/2 teaspoon baking powder
1 teaspoon salt
Preheat the oven to 350° F. Lightly oil two 8-inch loaf pans.
Mix the Ener-G egg replacer and water until well blended and frothy in a large bowl. Add the sugar, applesauce, pumpkin puree and stir together until well combined.
In a medium bowl, add the dry ingredients, and stir until thoroughly combined, then add them to the wet ingredients. Stir until just combined.
Spoon the batter evenly into the loaf pans. Bake for 60 - 65 minutes, or until a toothpick or knife inserted into the center comes out clean. Let the bread cool for 30 minutes before removing it from the loaf pans.