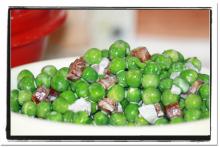 Sometimes the simplest things taste the best, and it doesn't get simpler than this yummy recipe for cold pea salad.
4 cups frozen peas (thawed)
1/2 cup prepared vegan style sausage or bacon, chopped
1/8 cup chopped red onion
1/3 cup Vegenaise
1 tablespoon sweet pickle juice
salt & pepper to taste
Add the peas, vegan sausage (or bacon), and onion to a large bowl and set aside.
In a small bowl, whisk together the Vegenaise and sweet pickle juice until thoroughly combined.
Gently fold the dressing into the pea mixture.
Add salt and pepper to taste.