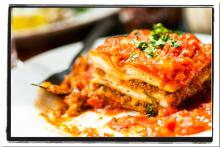 Who doesn't love a big hot plate of meaty, cheesy, yummy lasagna? Serve this to your vegan and non-vegan friends and family.
We promise they'll love it too!
1 16-ounce box vegan lasagna noodles
1 24-ounce jar of your favorite marinara sauce, divided
1 15-ounce can of tomato sauce
1 teaspoon of dried basil
1 teaspoon dried oregano
1/2 teaspoon dried thyme
1 1/2 cups meatless crumbles (like Beyond Beef Crumbles)
1 12-ounce block extra firm organic tofu
2 tablespoons fresh lemon juice
1/4 teaspoon salt
1/4 teaspoon freshly ground black pepper
1/8 teaspoon red pepper flakes
1 10-ounce package vegan mozzarella, shredded
3 cups fresh baby spinach, chopped
In a large pot of heavily salted water, cook the lasagna noodles according to package directions. Rinse immediately with cold water to stop the cooking process.
Meanwhile, in a medium saucepan over medium heat, combine about 2/3 of the marinara (reserve 1/3 for the final top layer), tomato sauce, basil, oregano, thyme, and meatless soy crumbles. Heat to a simmer, stirring occasionally. Remove from heat and set aside.
In a small bowl, mash the tofu into small pieces with a fork. Stir in the lemon juice, salt, pepper, and red pepper flakes.
In a 9 X 13-inch baking dish, spread 2/3 cup of sauce as a base. Next, begin assembling the lasagna by placing four sheets of lasagna noodles in a single layer over sauce. (be sure to remove as much water as possible from each noodle before putting them in the baking dish). Next, spread 1/4 of the tofu mixture over the noodles; top with 1/4 of the chopped spinach, 1/3 of the meat sauce, and 1/4 of the shredded mozzarella. Repeat layers three more times, finishing it off with a final layer of the reserved sauce and the remaining shredded mozzarella. Cover your baking dish tightly with aluminum foil.
Bake in a 375° oven for 40 to 45 minutes, then remove the foil and bake for an additional 10 minutes. Remove from the oven and let stand for about 10 minutes before serving. Sprinkle with vegan parmesan and chopped fresh basil if desired.
Refrigerate any leftovers.
Contains
Cheese (vegan)
Lemon
Meatless Ground Crumbles
Spinach
Tofu
Tomato