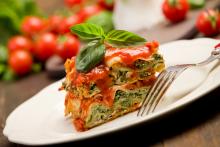 Easy Weeknight Lasagna is just that. Easy! They'll think you slaved over a hot stove for hours! It's okay, we won't tell.
One 8-ounce box lasagna noodles, prepared
12 ounces extra-firm organic silken tofu
1 24-ounce jar of your favorite marinara sauce
8 ounces vegan mozzarella, shredded
4 ounces fresh baby spinach, finely chopped
1 small can of sliced black olives, finely chopped (optional)
Use a Tofu Press if possible to remove the excess water. If you don't have a press, wrap the tofu in a clean kitchen cloth and place a flat, heavy object on top (a cast iron skillet works well). Allow the tofu to rest for about 10 to 20 minutes to force the excess water out.
Bring a large pot of heavily salted water to a boil. Drop in the lasagna noodles and cook according to package directions. Remove the pan from the heat and add cold water to stop the cooking process. Strain and pat noodles dry with a clean towel. Lay flat on a plate until you're ready to assemble the lasagna.
In a medium bowl, using a potato masher, mash the tofu into small pieces. Add 3/4 of the marinara sauce, spinach, and black olives if using. Stir to combine.
Line the bottom of an 8 x 8-inch baking dish with a thin layer of the marinara mixture, and begin building your lasagna by layering the rest of the ingredients:
First, add a single layer of lasagna noodles. Next, spread a few tablespoons of the tofu mixture over the noodles, then add a sprinkling of mozzarella, and begin again with the next layer of noodles.
Continue until you have three full layers, finishing with a layer marinara and cheese over the top.
Cover in tin foil and bake at 350° for 50 minutes.
Remove the foil and return the lasagna to the oven for an additional 10 minutes.
Let the lasagna stand for about 10-15 minutes before serving to set.
Contains
Cheese (vegan)
Pasta
Spinach
Tofu
Tomato