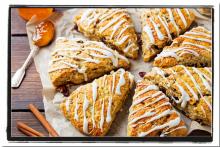 This recipe always makes me think of my friend Dorey. The first time we met for coffee, she brought a batch of these to share. It was love at first bite, so I was thrilled when she shared her recipe with me! And I've been making them ever since!
Here's what you need:
1 1/2 teaspoon ENER-G Egg Replacer
2 tablespoons water
2 1/2 cups all-purpose flour
1/3 cup granulated sugar
4 teaspoons baking powder
1/4 teaspoon ground nutmeg
1/2 teaspoon ground cinnamon
1/2 teaspoon salt
1 1/2 tablespoons orange zest, 1/2 tablespoon reserved for glaze
3/4 cup vegan butter
1 cup dried cranberries - roughly chopped
1/4 cup fresh orange juice, plus 2 tablespoons for the glaze
1/4 cup almond milk
2 to 3 tablespoons almond milk for brushing the tops
Raw sugar to sprinkle on the tops
Preheat the oven to 425°
Lightly oil a cookie sheet or line it with parchment paper.
Whisk the egg replacer and water together in a small bowl until the mixture is thick and creamy. Set aside.
In a large bowl, whisk together the flour, sugar, baking powder, nutmeg, cinnamon, salt, and one tablespoon of the orange zest until well combined. Add the butter to the dry ingredients. Cut the butter into the mixture with a pastry blender until the mixture is coarse and crumbly. For a more flaky scone, leave some of the butter pieces the size of large peas. Stir in the cranberries.
Add the orange juice, milk, and egg replacer. Mix with a wooden spoon until the dry ingredients are moistened or almost moistened.
Roll the dough onto a lightly floured surface and form it into a ball. Sprinkle a small amount of flour on the top, and dust your rolling pin to keep the dough from sticking. Press the dough down with your hands, and then roll it out. Use your hands to form the dough into a square or rectangle. You'll want it to be about 1/2" -3/4" thick.
Cut the dough into 8 -12 triangles and place them on the cookie sheet. Lightly brush the tops with milk and sprinkle with raw sugar—Bake for 10 to 12 minutes or until the scones are golden brown.
Orange Glaze
1/4 cup confectioners sugar
1/2 Tbsp. orange zest
2 Tbsp. Freshly squeezed orange juice
1/2 tsp. vanilla
Combine sugar, zest, juice, and vanilla in a medium-sized bowl. Stir until smooth. Drizzle glaze over scones before serving.
Cover any leftovers and enjoy them within three to five days.