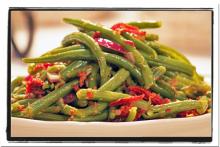 An easy and delicious way to create a better side dish when it comes to ordinary green beans. These are anything but ordinary! They're delectable!
4 cups fresh or frozen green beans
4 ounces Italian herb style sun-dried tomatoes, julienned
1/2 cup red onion, diced
1 large clove garlic, crushed
1 teaspoon oil (use oil from sun-dried tomatoes)
1 tablespoon vegan butter
2 teaspoon Tajin
1 teaspoon apple cider vinegar
3/4 cup vegan bacon, rough chopped or vegan bacon bits
Steam the green beans until tender. Combine the green beans with tomatoes, onion, garlic, oil, and butter in a large bowl.
Stir until well combined. Sprinkle the Tajin over the mixture. Add the vinegar and Smart Bacon and stir to combine.
This dish can be served warm, at room temperature, or chilled.