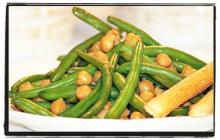 Mixing green beans and chickpeas is a great play on textures. The addition of sherry vinegar and soy sauce gives this dish an Asian flair that's just delicious.
1 pound of fresh or frozen (thawed) green beans
3 tablespoons sherry
3 teaspoons granulated sugar
2 tablespoons soy sauce
1 cup vegetable broth
14 oz. can chickpeas, drained and rinsed
1 tablespoon sesame oil
Bring a large saucepan of water to a boil, add the green beans, and cook for 5 minutes until they turn bright green and are tender but still firm.
Drain and plunge into ice water to stop the cooking process and to set their color.
Bring the sherry to a boil in a small saucepan, and then transfer to a bowl adding the sugar and soy sauce. Stir until the sugar has dissolved.
Add the vegetable broth to a large saucepan and add one tablespoon of the sherry mixture. Bring to a boil. Drain the green beans and add them to the broth. Return the green beans to a boil, then remove, drain, and let cool from the heat.
Combine the chickpeas, sesame oil, remaining sherry mixture, and green beans in a large bowl. Toss to combine. Serve immediately.
There are a few steps to this recipe, but thankfully each step is super easy!
Store any leftovers in the refrigerator for up to 3 days.