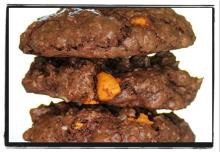 We've combined whole grain, chocolate, and peanut butter to make this delicious cookie. Lightly crisp on the outside and soft on the inside. Can you say "Yum?"
2 cups quick oats
2 cups flour, sifted
3/4 cup cocoa powder
1/2 teaspoon baking soda
1/2 teaspoon baking powder
3/4 teaspoon sea salt
1 1/2 cups sugar
3 tablespoons ground flax seed
2/3 cup non-dairy milk
2/3 cup canola oil
2 teaspoons vanilla extract
1/4 teaspoons almond extract
2/3 cup peanut butter chips
Preheat oven to 350°
Line two baking sheets with parchment paper.
Stir together oats, flour, cocoa powder, baking soda, baking powder, and salt in a medium-sized bowl. Set aside.
Beat together the sugar, ground flax seeds, and non-dairy milk until smooth in a large bowl. Add the oil, vanilla, and almond extracts and beat until well mixed. Add the flour mixture 1/4 cup at a time until it is incorporated. Finally, stir in the peanut butter chips.
Drop heaping tablespoons of dough onto a cookie sheet about 2-inches apart. Flatten the cookie dough slightly with wet fingers for a firmer texture, or leave unflattened for a chewier cookie.
Bake for 10 - 12 minutes until cookies are firm and have risen. Transfer to a wire rack to cool. Store in a tightly covered container to maintain soft, fresh cookies.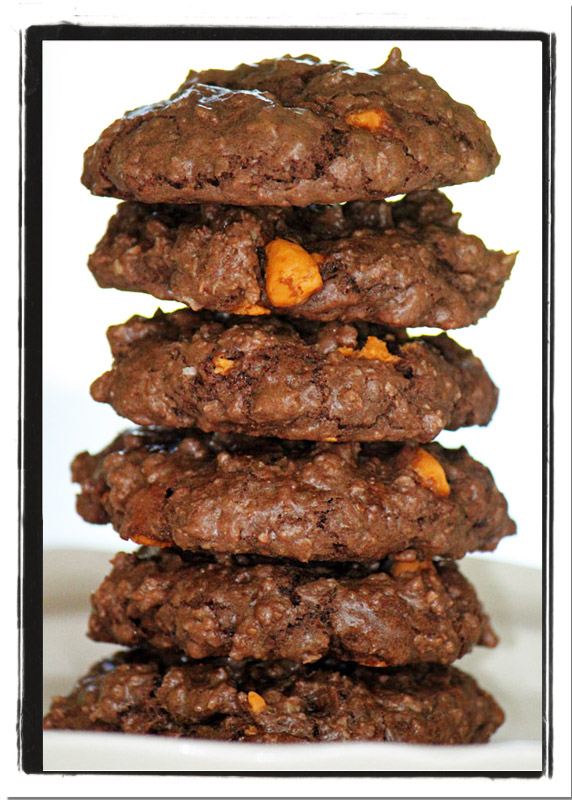 This recipe makes 2 1/2 dozen cookies.