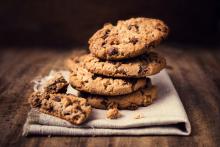 Espresso Chocolate Chip Cookies are decadent, combining all the flavors you love; chocolate, coffee, and cinnamon. What else is there?
2 cups all-purpose flour
1/2 teaspoon. baking powder
2 tablespoon espresso powder
1/2 teaspoon ground cinnamon
1/2 teaspoon salt
1 cup vegan butter (softened)
1 cup powdered sugar
1/2 cup packed brown sugar
1/2 teaspoon vanilla
1 cup semisweet chocolate chips (non-dairy)
1/3 cup of granulated sugar (to roll the cookie "ball" in before baking)
Preheat the oven to 350°
Lightly grease or line a large baking sheet (or two) with parchment paper.
In a medium bowl, whisk together flour, baking powder, espresso powder, cinnamon, and salt. Set aside.
Using a mixer, cream together the butter, powdered sugar, brown sugar, and vanilla. Add the flour mixture 1/4 cup at a time until well combined. Stir in the chocolate chips.
Scoop about two tablespoons of dough and roll into a ball. Roll the ball gently in a small plate of sugar making sure to cover it completely.
Place about 2 inches apart on a baking sheet. For a crispy cookie, press the dough to flatten it. If you prefer a softer cookie, press down only slightly, or leave as is.
Bake 10 to 12 minutes, or until the edges begin to brown.
Let cool before serving.
This recipe makes approximately 2 dozen cookies.
Contains
Butter (vegan)
Chocolate
Wheat
Wheat Flour