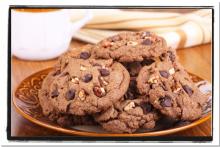 These are the cookies that will impress your non-vegan friends and family! They'll never guess they're vegan! Your secret is safe with us!
2 cups all-purpose flour
1/4 cup cocoa powder
1/2 teaspoon baking powder
1/2 teaspoon salt
1 cup vegan margarine (softened)
1/2 cup granulated sugar
1/2 cup packed brown sugar
1/2 teaspoon vanilla
1 cup semisweet chocolate chips (non-dairy)
1/2 cup chopped walnuts
4 tablespoons granulated sugar for sprinkling (optional)
Preheat the oven to 350°
Line a Large Baking Sheet (or two) with parchment paper.
In a medium bowl, whisk together flour, cocoa powder, baking powder, and salt.
Using a Hand Mixer, cream together the margarine, vanilla, granulated sugar, and brown sugar. Mix in the flour mixture 1/4 cup at a time until all is combined. Finally, stir in the chocolate chips and walnuts.
Using your hands, scoop about two tablespoons of dough and make it into a ball. Press down gently to flatten the dough slightly with the palm of your hand.
Bake for approximately 10 to 12 minutes. Let cool before serving.
Makes approximately 2 1/2 dozen cookies.