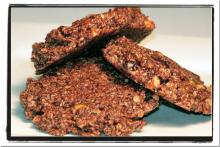 Chocolate no-bake cookies are traditionally rich and decadent, and these are no exception! However, adding pumpkin seeds, peanuts, and raisins takes these no-bake cookies to the next level and makes them practically irresistible.
3/4 cup non-dairy milk
1 1/4 cups organic brown sugar
1/2 cup vegan butter
1 teaspoon vanilla extract
3 1/2 cups quick-cooking oats
1/3 cup unsweetened cocoa powder
1/2 cup crunchy all-natural peanut butter
1/4 cup raw pumpkin seeds
1/3 cup peanuts
1/4 cup raisins
1/2 teaspoon sea salt
Combine the milk, sugar, vegan butter, and vanilla in a small pot. Cook over medium heat, stirring continuously, until smooth and creamy and the mixture bubbles. Remove from heat and set aside.
In a large bowl, combine the oats, cocoa powder, peanut butter, pumpkin seeds, peanuts, raisins, and salt.
Pour the warm milk mixture into the bowl and stir until the ingredients are well combined.
Drop dollops of the cookie mixture onto parchment paper, flatten slightly with the back of a spoon if desired, and let cool for about 30 minutes to set.
Cover and store cookies in the refrigerator.