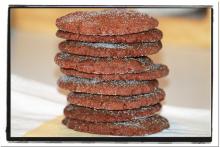 Calling all chocoholics! These double-chocolate chocolate chip cookies are the real deal. You'll fall in love at first bite!
2 cups all-purpose flour
1/4 cup cocoa powder
1/2 teaspoon baking powder
1/2 teaspoon ground cinnamon
1/2 teaspoon salt
1 cup vegan margarine (softened)
1 cup powdered sugar
1/2 cup packed brown sugar
1/2 teaspoon vanilla
1 cup semisweet chocolate chips (non-dairy)
About four tablespoons of granulated sugar for sprinkling
Preheat the oven to 350°
Line a Large Baking Sheet (or two) with parchment paper.
Whisk together flour, cocoa powder, baking powder, cinnamon, and salt in a medium bowl.
Using a Hand Mixer, cream together the margarine, vanilla, powdered sugar, and brown sugar. Mix in the flour mixture 1/4 cup at a time until well combined. Finally, stir in the chocolate chips.
Scoop about two tablespoons of dough and roll it into a ball. Then gently roll the ball in a small plate of sugar, covering it completely. Place the ball on the prepared cookie sheet. Press down gently to flatten the dough with the palm of your hand. The more you flatten, the crisper the cookie.
Bake for 12 to 14 minutes, or until the edges are golden. Cool before serving.
Makes approximately two dozen cookies.