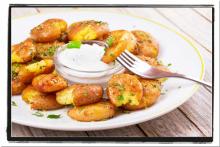 Crispy smashed potatoes are crispy on the outside and soft on the inside. Simple and easy to make, and so very delicious!
2 pounds of small white potatoes (18 to 20 potatoes)
2 tablespoons extra virgin olive oil
1 teaspoon of kosher salt
1/4 teaspoon pepper
fresh parsley, chive, or green onion, chopped (for garnish)
Place the potatoes in a large pot and fill with enough water to completely cover the potatoes. Place the pot over medium-high heat and bring the water to a boil. Cook until the potatoes are fork-tender, approximately 20 minutes.
Meanwhile, preheat the oven to 450° and prepare a baking sheet by lining it with parchment paper.
Strain the potatoes and let them sit in the colander for 3 to 5 minutes before returning them to the pot. Once you've returned the potatoes to the pot, add the olive oil, salt, and pepper, and toss gently to coat the potatoes evenly.
Next, place the potatoes onto the baking sheet in a single layer. Then, smash each potato with the flat bottom of a glass or a large spoon, keeping the potato in one piece. Don't worry if a few break apart. They'll still be just as delicious.
Place the baking sheet into the oven and bake for 20 minutes, or until the potatoes are golden brown and crispy—no need to flip them. Just let them cook.
Remove and transfer to a serving plate. Garnish with parsley, chive, or green onion and enjoy while hot, either alone or with your favorite dip!
Our Favorite Crispy Smashed Potato Dip
1/2 cup vegan sour cream
1/4 cup vegan mayo
1 teaspoon chives, fresh or dried
1/4 teaspoon onion powder
1/4 teaspoon garlic powder
1/4 teaspoon dill weed
Add the above ingredients into a small bowl and stir to combine. Enjoy!