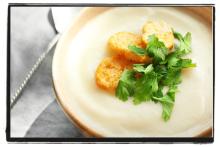 Creamy Potato Soup... what's not to love? It's hearty and full of flavor! Grab some Italian bread, toss in a garden salad, and you have a meal fit for a king... or queen.
2 tablespoons olive oil
1/4 cup (half a stick) vegan butter
1 medium white onion, diced
2 whole carrots, small dice
2 ribs of celery, small dice
4 cloves garlic, crushed or minced
12 small yellow potatoes, peeled and cubed
salt and freshly ground black pepper to taste
1/4 cup unbleached white flour
6 cups of hot water
3 tablespoons Better Than Chicken Boullion - No Chicken Base
1 teaspoon cumin
1 teaspoon dried parsley
1 bay leaf
1/2 cup vegan sour cream
1/2 cup non-dairy milk
Heat olive oil and butter in a large soup pot over medium heat. Add the onion, carrot, celery, garlic, and potatoes. Season with a generous pinch of salt and freshly ground black pepper. Stir the veggies and continue to cook for about 3 to 5 minutes.
Stir in the flour until incorporated and coating the vegetables, another 2 to 3 minutes.
To the pot, slowly stir in hot water, bouillon, cumin, parsley, and bay leaf.
Bring the soup to a boil. Reduce heat, cover, and simmer gently until the potatoes are tender; 12 to 15 minutes.
Next, remove the pot from the heat and take out the bay leaf. Stir in the vegan sour cream and the non-dairy milk. Bring the soup to a simmer over medium-high heat, stirring constantly.
For a super smooth puree, blend with an Immersion Blender until you get the desired consistency.
Enjoy!