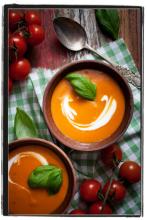 When I learned that one of the leading brands of tomato soup contained wheat flour, along with a few other unnecessary ingredients, I knew I wanted to create my own recipe. As a result, I have a recipe for homemade tomato soup that is not only easy to make - its flavor is undeniably better than canned.
1 tablespoon olive oil
1 medium yellow onion, chopped
2 tablespoons tomato paste
2 large cloves garlic, minced
1 tablespoon agave nectar
2 15-ounce cans of diced organic tomatoes
2 tablespoons Better Than Bouillon No Chicken Base

2 teaspoons balsamic vinegar
1/4 teaspoon dried thyme
1/2 teaspoon dried basil
4 cups of water
pinch of salt
pinch of red cayenne pepper
Heat a medium saucepan over medium heat. Add the oil. Next, add the onion and sauté until soft and translucent, about 4 to 5 minutes.
Stir in the tomato paste, garlic, and agave, and cook for another minute. Next, stir in the diced tomatoes, bouillon, balsamic vinegar, thyme, basil, water, salt, and cayenne.
Bring soup to a boil, then reduce heat to low and simmer, covered, for 20 - 25 minutes.
Remove from heat and blend using either an immersion hand blender (my favorite) or a regular blender or food processor until completely smooth.
Adjust seasonings to taste.
Add creaminess to your soup by stirring 1/4 cup of vegan sour cream or plain non-dairy yogurt with two tablespoons of dairy-free creamer (or milk) until combined. Create a design on top of each serving - or stir the mixture into the soup until thoroughly combined.
Enjoy!