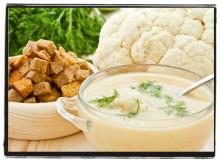 We love soup in winter, spring, summer, and fall. And this is a perfect any-weather soup! It's hearty and delicious, and the fact that cauliflower has so many health benefits is a bonus!
1 tablespoon olive oil
1 cup chopped onion
4 cloves garlic, minced
4 cups water
2 tablespoons Better Than Bouillon No Chicken Base

1 large head cauliflower, rough chopped
2 medium potatoes, peeled and diced
1 teaspoon ground cumin
1 teaspoon kosher salt
1 15-ounce can great northern beans, drained and rinsed
1/2 cup non-dairy milk
1/3 cup non-dairy creamer
salt and freshly ground black pepper
Heat the oil in a soup pot over medium heat and saute the onion until it is translucent. Add the garlic and continue to sauté another minute or two.
Add the water, bouillon, cauliflower, potatoes, cumin, and salt. Bring the mixture to a rapid boil, lower the heat to medium-low, cover, and simmer gently for 15 to 20 minutes or until the vegetables are tender. Remove the pot from the heat. Remove a few cauliflower pieces with a slotted spoon and set them aside. Stir the beans into the soup mixture.
Using an immersion blender, mix until the soup is smooth and creamy. If you don't have an immersion blender, cool the soup mixture slightly, then transfer to a food processor or a blender, blending until you get the right consistency. Do this in batches if necessary. But be careful - the mixture will be hot!
When the soup is smooth and creamy, stir in the non-dairy milk and creamer and return the reserved cauliflower pieces to the pot. Season the soup with salt and pepper to taste.
If desired, garnish individual servings with fresh dill, parsley, or chives and croutons.