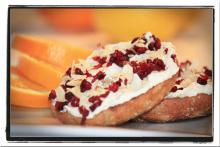 This bagel is a delicious twist on the ever-so-popular Cranberry Bliss Bars. The recipe comes together super quick, it's easy to make, and it's perfect for breakfast or an anytime snack.
2 whole-grain - or whole-wheat English muffins, lightly toasted
1/4 cup dried craisins, finely chopped
1/8 cup slivered almonds, rough chopped
Cream Cheese Topping
3 ounces of vegan cream cheese
1 tablespoon vegan butter
2 tablespoons confectioners' sugar
1/2 teaspoon fresh lemon juice
1 1/2 teaspoons fresh orange juice
1 teaspoon orange zest
1/4 teaspoon vanilla
In a small mixing bowl, blend the cream cheese, butter, and confectioners sugar. Add the remaining ingredients and continue to blend until the mixture is smooth.
Toast the English muffin halves, and allow them to cool slightly. Spread each half with the cream cheese mixture, then sprinkle each half with the craisins. Finish off with a sprinkle of almonds.
Tip: Serve orange slices alongside the muffins with orange spiced tea or your favorite coffee blend.
Refrigerate any leftover topping for up to one week.