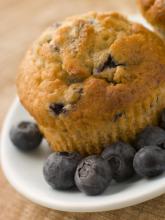 Blueberries are the perfect food in our book, and there's nothing better than a warm, fresh-out-of-the-oven blueberry muffin sitting on our plate at the breakfast table - unless of course there were two blueberry muffins on that plate. That would be better.
2 cups unbleached all-purpose flour (2 tablespoons reserved)
1 1/2 tsp baking soda
1/2 tsp baking powder
1/2 tsp salt
1 cup sugar
1 cup almond or soy milk
1/3 cup canola oil
1 teaspoon vanilla
1 1/2 cup fresh blueberries
Preheat the oven to 400 °
Lightly grease muffin tins or use cupcake liners.
In a medium-size bowl combine flour (less 2 tablespoons), baking soda, baking powder, and salt.
In a large bowl combine sugar, milk, oil, and vanilla. Mix well.
Add the flour mixture, 1/2 cup at a time, stirring until the ingredients are just blended.
Gently toss the blueberries with the two tablespoons of flour you reserved, then gently fold them into the batter.
Add the batter to the muffin tin. Sprinkle the top of each muffin with raw sugar if using.
Bake for 17 - 20 minutes, and allow to cool completely.
Makes 12 muffins
Contains
Blueberry
Milk (non-dairy)
Oil