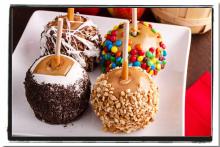 There's nothing quite as good as biting into a big crisp apple that's covered in caramel unless you count biting into two apples covered in caramel at one time. Not that we've ever done that, we're just sayin'.
4 firm Red Delicious apples
4 firm Granny Smith apples
8 large wooden skewers or chopsticks
1 1/2 tablespoons Earth Balance Butter
1 1/2 cups brown sugar
1/4 cup corn syrup
3 tablespoons water
1/4 teaspoon salt
1/4 teaspoon vanilla extract
Wash and dry the apples to remove all wax. (caramel will not stick if there is wax on the apples) Remove the stems and pierce the top with a chopstick. Use wax paper or lightly grease a baking sheet.
Melt the butter in a saucepan over medium heat. Add the brown sugar, corn syrup, water, and salt. Stir until the sugar has melted and the mixture is smooth. Gently bring to a boil and cook for 10 to 15 minutes. To test if the caramel is ready, drop a little caramel into a cup of cold water. When you can immediately form a firm ball of caramel using your fingers, the caramel is ready. Increase the cooking time, if needed, by a minute at a time until you reach the 'firm ball' stage. Remove the caramel mixture from the heat and stir in the vanilla.
Swirl each of the apples in the caramel until coated. Let the excess drip off into the saucepan, then place the apple on the cookie sheet. Refrigerate for at least 1 to 2 hours before serving.
Add more yumminess to your caramel apples by dipping the bottom and sides of the apple, immediately after covering in caramel, into candy sprinkles, nuts, sugar, coconut, chocolate chips, cookie crumbs, cereal, or whatever appeals to you!