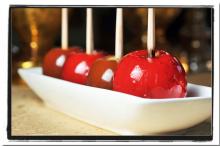 Sweet, crunchy, crisp, and delicious. Candy apples have always been a crowd-pleaser, and they're super simple to make.
6 apples (Granny Smith or Macintosh)
6 wooden skewers or chopsticks
2 cups granulated sugar
3/4 cups water
1/2 cup light corn syrup
1/2 teaspoon cinnamon
1/2 teaspoon of red food coloring
Combine the sugar, water, corn syrup, and food coloring in a heavy-bottomed saucepan over medium-high heat. Bring the mixture up to a boil, and continue boiling until it reaches 300°.
Meanwhile, prepare a baking sheet with wax paper and a generous amount of cooking spray. Set aside. Remove the stems from the apples and pierce the top of each apple with a skewer or chopstick.
Once the candy mixture has reached 300°, remove the saucepan from the heat and stir in the cinnamon. Work quickly but carefully. The candy is extremely hot. Hold the skewer of the first apple and swirl it in the candy mixture, coating the entire apple. Allow the excess candy to drip back into the pan for a few seconds, and set the apple on the prepared baking sheet. Continue coating all of the apples.
Cool the apples at room temperature for about 20 to 30 minutes before serving. Store at room temperature and enjoy within two days.
Tip: To make cleanup a whole lot easier, just let your saucepan soak in warm soapy water for several minutes.