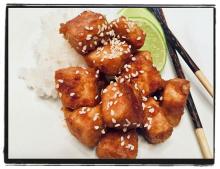 Baked until crispy, then sauteed in a delicious peanut sauce, this tofu is irresistible. It makes a fantastic addition to rice bowls, noodle bowls, stir-fries, and salads.
For the tofu
1-ounce package of extra firm organic tofu
2 tablespoons soy sauce
1 teaspoon Sriracha
1 teaspoon sesame oil
1 tablespoon maple syrup
6 to 8 tablespoons cornstarch
For the sauce
2 tablespoons creamy peanut butter
2 tablespoons soy sauce
1 tablespoon Sriracha
2 tablespoons maple syrup
1 tablespoon freshly grated ginger
1 teaspoon sesame oil
Juice of 1 lime
Preheat the oven to 400° then line a baking sheet with parchment paper.
Press the tofu using a Tofu Press
, or wrap the tofu in a clean towel and press it with something substantial (cast iron skillets work well). Press for 10 to 15 minutes, or until all of the liquid has been released.
In the meantime, whisk together all the ingredients for the sauce using a small mixing bowl. Set this aside.
Cut the pressed tofu into 1/2-inch cubes and place in a large ziplock bag. Add 2 to 3 tablespoons of the sauce to the bag and gently toss to coat. Seal the bag and allow the tofu to marinate for about 10 minutes. Next, add the cornstarch to the bag and gently toss to coat the tofu evenly.
Transfer the tofu to the baking sheet and bake for 20 minutes, turning at the halfway mark until the tofu is lightly brown. Remove from the oven.
Heat a large cast-iron skillet over medium heat. Add the tofu and the rest of the sauce, turning to coat. Continue to cook for about 2 to 3 minutes, stirring continuously, until all of the tofu is fully coated.
Serve with lime wedges over rice, noodles, stir-fried vegetables, or chill the tofu and enjoy on a salad!