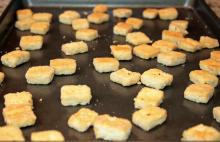 This is a super easy and delicious "shake-and-bake" style recipe. Toss the baked tofu with pasta, in a salad, or eat it as is. However you choose to enjoy it, you're in for a real treat!
Preheat the oven to 400° F.
Lightly coat a baking sheet with vegetable oil or line the sheet with parchment paper if you prefer.
1 package extra firm organic tofu
1/4 cup cornstarch
1 tablespoon garlic powder
pinch of fine sea salt
1 tablespoon olive oil
Wrap the tofu in a clean towel. Gently press the tofu for 3 to 5 minutes to remove most of the water - or you could use the Tofuture from Amazon.com, which makes the whole process a lot easier. (Clicking on the link above will take you to Amazon.com where you can check out the Tofuture for yourself).
After the water has been removed, cut the tofu horizontally into thirds, then cut each third into four strips. Cut each strip into five pieces to make approximately 1" cubes.
Add the cornstarch, garlic powder, salt, and tofu to a covered bowl or gallon-size plastic bag, and gently shake to coat, then add the oil and shake again.
Spread the tofu onto the baking sheet in a single layer. Bake for 15 minutes, then turn and bake for an additional 10 minutes.
You now have perfectly tender, crispy pieces of tofu to serve however you like!