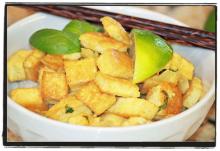 This dish has a few steps to it, but luckily each step is super easy! The tofu is crispy, the sauce is delicious, and the rice is the perfect vehicle for it all.
2 tablespoons vegan butter
12-ounce block extra firm organic tofu drained and pressed
2 large cloves garlic, minced
1 yellow onion, diced
1 tablespoon curry powder
One 13-ounce can of coconut milk
2 tablespoons agave
1/4 teaspoon kosher salt
juice of 1 lime
10 fresh basil leaves, chopped
1 tablespoon Sriracha or other hot sauce
Cooked Calrose or basmati rice for serving
Press the tofu and remove as much liquid as possible. Then slice the tofu into approximately 1-inch pieces.
Next, melt the butter in a large skillet over medium heat. Add the tofu and cook, turning the tofu often until all sides are lightly brown and crisp. Transfer to a plate lined with a paper towel and set aside.
Add the garlic and onions to the same skillet. Cook, stirring continuously for about 2 minutes. Sprinkle the curry powder over the onions and cook for another 1 to 2 minutes. Reduce the heat to medium-low, add the coconut milk, and stir until well combined. Next, add the agave, salt, and lime juice. Bring the sauce up to a simmer and cook until the sauce begins to thicken. Finally, add the tofu to the pan and toss to coat.
Stir in the basil and hot sauce, and you're ready to serve. Serve the tofu and sauce over a bed of cooked rice and garnish with additional basil and lime.