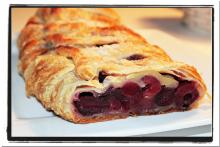 Something magical happens when you combine fruit, flour, sugar, and cinnamon; wrap it up in puffed pastry, and then pop it in the oven.
This cherry strudel is so easy to make with an outcome that's perfect every time. And lucky for us, one of the most popular puff pastry brands is naturally vegan, which makes this dessert really perfect.
1 puff pastry sheet, defrosted
1/4 cup sugar
3 tablespoons flour
1/2 teaspoon cinnamon
1/4 teaspoon nutmeg
pinch of salt
4 cups fresh cherries, pits removed
1 tablespoon freshly squeezed lemon juice
2 tablespoons vegan butter, melted
sugar, for sanding
Defrost the puff pastry according to package directions. (It takes approximately 30 minutes to defrost one sheet)
Preheat the oven to 375° F
In a large bowl, combine the sugar, flour, cinnamon, nutmeg, and salt. Toss the cherries with the lemon juice, then add to the dry mixture. Toss until the cherries are well coated and set aside.
Unfold the puff pastry and roll out onto a lightly floured surface to approximately 11 x 15 inches. Spoon the cherries out onto the dough in a line down the middle. Fold one edge over the cherries, then take the opposite side and fold it over—Tuck in the ends.
Brush the top of the strudel with the melted butter, then sand generously with sugar. Use a serrated knife to make several diagonal slashes along the top of the strudel. Carefully transfer the strudel to a Baking Sheet that's been lined with Parchment Paper.
Bake for 30 - 35 minutes until the top is golden and puffy.
Allow the strudel to cool for 20 to 30 minutes before slicing.