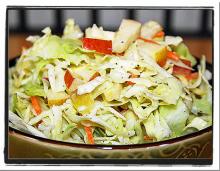 This recipe is a sweet twist on a classic favorite. This delicious salad comes together quickly and makes a great addition to any table.
Slaw
1 small head green cabbage, shredded (about 1 lb.)
1 large apple of choice, cored and diced
2 large fat carrots, peeled and grated
Dressing
1/2 cup Follow Your Heart brand Vegenaise
3 tablespoons apple cider vinegar
2 teaspoons sugar
1/4 teaspoon each kosher salt and fresh ground pepper
Add the cabbage, apple, and carrots to a large bowl.
Whisk
together the ingredients for the dressing in a small bowl. Fold the dressing into the cabbage mixture and serve.
Cover and refrigerate any leftovers.