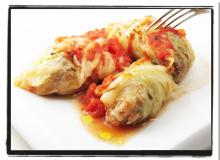 Cabbage Rolls are delicious and genuinely meant to be shared! You'll love them, and so will your lucky dinner companions!
Ingredients for the Sauce:
2 teaspoons vegan butter
1/4 cup chopped yellow onions
1 teaspoon minced garlic
1 (28-ounce) can of crushed tomatoes and their juices
3/4 cup non-dairy creamer or milk
1 tablespoon apple cider vinegar
1 tablespoon sugar
1 head of cabbage, cored and scalded in lightly salted hot water until soft and pliable, approximately 10 to 12 minutes. Remove from the water and set aside to cool.
Ingredients for the Filling:
2 teaspoons vegan butter
1/4 cup chopped yellow onions
2 teaspoons garlic, minced
1 11-ounce package Beyond Meat Beef-Free Crumbles "Beefy" Flavor (or other ground crumbles)
1 1/2 cups cooked long-grain rice
1 teaspoon paprika
1 teaspoon garlic powder
1/2 teaspoon onion powder
1/2 teaspoon dried oregano
1/2 teaspoon dried thyme
1/2 teaspoon salt
1/4 teaspoon ground black pepper
1/4 teaspoon cayenne pepper
1/3 cup cold water
1 tablespoon corn or potato starch
Preheat the oven to 350° F.
Preparing the Sauce:
Melt 2 tablespoons of vegan butter in a saucepan over medium-high heat. Add onions and cook, stirring continuously, for 2 to 3 minutes. Stir in the garlic and cook for 1 minute. Add the tomatoes and cream. Bring the mixture to a simmer, occasionally stirring, for 5 minutes. Add the vinegar and sugar. Continue to simmer until the sauce thickens, about 5 minutes. Remove from the heat and adjust the seasoning to taste. Set aside.
After the cabbage has been scalded in hot water and allowed to cool slightly, separate the leaves, then cut and remove the spine from each leaf. Spread the leaves onto paper towels and pat dry.
Preparing the Filling:
Melt the butter over medium-high heat in a medium-sized skillet. Add the onions and cook until they are translucent and begin to caramelize around 3 to 5 minutes. Add the garlic, and continue to cook, stirring, for another minute. Stir in the Beyond Meat Crumbles, cooked rice, paprika, garlic powder, onion powder, oregano, thyme, salt, pepper, and cayenne. Mix 1/3 cup water with corn or potato starch and add this to the mixture. Continue cooking, stirring, for another 3 to 5 minutes or until the crumbles have thawed and everything is well combined.
Assembling the Rolls:
Spread a thin layer of sauce on the bottom of a 9 X 13-inch baking dish. Lay the cabbage leaves rib side down on a flat work surface. Working one at a time, spoon about 1/4 cup of filling, depending on the size, into the center of each leaf. Then tuck in the sides and roll the leaf into a neat cylinder. Place the roll seam side down into the baking dish. Repeat with the remaining ingredients, stacking the cabbage rolls as necessary. Pour the remaining sauce over the rolls, then cover tightly with aluminum foil.
Bake for 40 to 45 minutes, until heated through and tender. Remove the baking dish from the oven. Let stand for 5 minutes before serving.
Serve rolls with extra sauce spooned over the top. Enjoy!