Category
Appetizer
Sauces, Dips, Dressings & Spreads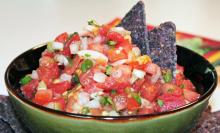 Pico de Gallo, unlike salsa, is made with mostly fresh ingredients. This recipe is not only packed with flavor, but the freshness is out of this world. You're going to love this Pico de Gallo!
2 28-ounce cans diced tomatoes
8 vine-ripened tomatoes, diced
1 white onion, diced
1 bunch of scallions, diced
1 bunch cilantro, stems removed, roughly chopped
4 garlic cloves, minced
2 jalapeno peppers, seeded and minced
2 serrano chile peppers, seeded and minced
2 yellow chili peppers, seeded and minced
2 tablespoons cumin
1 tablespoon dried oregano
1 tablespoon sea salt
juice of 2 limes
Add all of the above ingredients to a large bowl and stir to combine.
Chill before serving.
Serve with tortilla chips, over tacos, enchiladas, on top of freshly sliced avocado, and anything else that sounds good to you! It's delicious on just about everything!
Contains
Cilantro
Garlic
Lime
Onion
Scallions
Tomato