Category
Sauces, Dips, Dressings & Spreads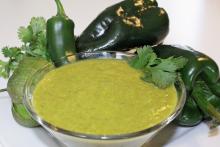 Spanish rice, burritos, enchiladas, and more! You name it, and this sauce is going to make your recipe taste better than ever!
2 lbs. tomatillos halved
2 poblano peppers, halved lengthwise, seeded, stems removed
2 jalapeno peppers, halved lengthwise, seeded, stems removed
6 cloves garlic, skin on
1 bunch of cilantro, large stems removed
1 cup hot water
2 Not Chick'n Bouillon cube
1/2 teaspoon sea salt
Spray a large baking sheet (or two) with non-stick cooking spray and place the tomatillos (cut side down), along with the peppers, and garlic on the baking sheet. Spray the vegetables lightly with nonstick cooking spray. Broil 10 - 12 minutes, or until they begin to blister and turn brown. Remove from oven.
Place the tomatillos in a blender and blend on high 2 - 3 minutes. Next, add the peppers, squeeze the garlic from their skins, and add to the mixture. Continue blending on high until mixture is smooth. Add the cilantro and blend 1 - 2 minutes more.
In a separate bowl mix the Not Chick'n Bouillon cubes, and sea salt with one cup of hot water. Stir until mostly dissolved, then add to your tomatillo mixture. Blend on high until sauce is smooth and creamy.
Adjust seasonings to taste.
Contains
Cilantro
Garlic
Tomatillos