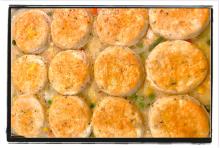 This recipe tastes like home. It's comfort food at its best, times ten!
The Stew
4 cups of water
3 tablespoons Better Than Bouillon, No Chicken Base
12 tablespoons vegan butter (we use Miyoko's Organic Cultured Vegan Butter)
1 medium yellow onion, chopped
3 cloves garlic, minced
1/2 cup all-purpose flour
2 cups potato, peeled and diced
4 cups of frozen mixed vegetables; peas, carrots, corn
1/3 cup non-dairy milk
1/2 teaspoon dried thyme
1 tablespoon dried (or 1/8 cup fresh) parsley
The Biscuits
2 cups all-purpose flour
1 tablespoon baking powder
1 teaspoon kosher salt
1 teaspoon sugar
8 tablespoons cold butter (we use Miyoko's Cultured Vegan Butter)
3/4 cup non-dairy milk
2 tablespoons dried parsley (or 1/4 cup fresh) chopped
Preheat the oven to 375°
Make the broth by heating the 4 cups of water to boiling. Add the bullion, and stir to combine. Remove from the heat and set aside.
Heat a large stockpot over medium heat. Add the butter to melt. Once melted, add the onion, and saute for 10 to 12 minutes until translucent. Add the garlic and cook for another minute.
Sprinkle in the flour and cook over low heat, constantly stirring, for 2 to 3 minutes until the flour has browned. Add the warm broth to the sauce, whisking continuously. Simmer over low heat for another minute, stirring until thick. Season with salt and pepper to taste, and stir in the milk. Add the vegetables, thyme, and parsley. Stir to combine. Place the stew in a 9 x 13 x 2-inch rectangular baking dish. Place the dish on a sheet pan lined with parchment paper and bake for 15 minutes.
Meanwhile, make the biscuits. Combine the flour, baking powder, salt, and sugar in the bowl of an electric mixer fitted with a paddle attachment. Add the cold vegan butter and mix at low speed until the butter is approximately the size of peas. Add the non-dairy milk and combine at low speed. Mix in the parsley.
Drop the dough onto a well-floured surface and, with a rolling pin, roll out to approximately 3/8-inch thick. Next, cut out twelve biscuits with a 2 1/2-inch round dough cutter.
Remove the stew from the oven and arrange the biscuits on top. Brush the tops of the biscuits with melted Miyoko's butter, and return the dish to the oven.
Bake for another 25 to 30 minutes until the biscuits are brown and the stew is bubbly.
Remove from the oven and let stand for 5 to 10 minutes before serving.