Category
Sauces, Dips, Dressings & Spreads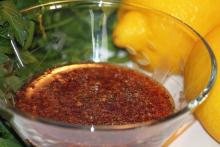 This marinade flavors the tofu in such a way that no matter the recipe, it always works! We bake, grill, or broil the tofu, then toss it with rice, pasta, or salad. It's delicious every time!
1/4 cup soy sauce
2 tablespoons Agave nectar
2 tablespoons white balsamic vinegar
2 cloves crushed or minced garlic
1/2 teaspoon toasted sesame oil
1 tablespoon fresh lemon juice
1 teaspoon onion powder
1 teaspoon chili powder
1 teaspoon smoked paprika
1/8 teaspoon cayenne pepper
Whisk the above ingredients together in a small bowl. Use the marinade immediately or refrigerate and enjoy within one week.