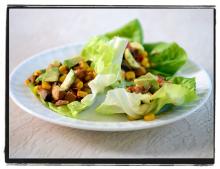 Lettuce wraps are not only delicious; they're the perfect food in our book. Enjoy them as an appetizer or a meal. You're going to love them either way!
Sesame -Teriyaki Sauce:
1 teaspoon sesame oil
1/4 cup teriyaki sauce
1/4 cup dry white wine
2 tablespoons pure maple syrup
pinch of crushed red pepper flakes
Combine all of the ingredients above in a small saucepan and bring to a boil over medium heat. Reduce heat and simmer for 3 to 5 minutes, stirring occasionally. Remove from heat and set aside.
Filling
1 tablespoon olive oil
1/2 cup mushrooms, sliced thin and roughly chopped
2/3 cup red bell pepper, diced small
1 cup fresh or frozen corn
1 1/2 cups baked tofu, small dice
2 tablespoons pine nuts
1/4 cup cilantro, leaves only, roughly chopped
1-2 heads Bibb lettuce
1 avocado, pitted and diced
Heat the olive oil in a large skillet over medium heat.
Saute the mushrooms for 2 to 3 minutes, stirring often. Stir in bell pepper, corn, and pine nuts. Continue to cook for 3 to 5 minutes, stirring occasionally. Add the baked tofu stirring gently to combine.
Toss in the pine nuts and add the sauce mixture to the skillet. Continue cooking, stirring gently, until the sauce has reduced and the mixture is well coated.
Remove from heat, and stir in the cilantro.
Arrange individual lettuce leaves on a platter and fill each leaf with approximately 1 - 2 tablespoons of the filling and top with fresh avocado.
Note: For gluten-free lettuce wraps, use gluten-free teriyaki sauce.