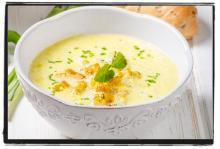 Asian-style soups often have a long list of ingredients giving them the appearance of being very complicated. However, this one is super easy to prepare, so don't let this long list fool you.
1 tablespoon olive oil
1 medium onion, diced thinly
2 - 3 cloves garlic, minced
1 quart (32 ounces) coconut milk beverage
1 cup water
2 medium carrots, small dice
2 cups shredded Napa or green cabbage
2 tablespoons chopped fresh lemongrass
1 teaspoon fresh ginger, minced
1 - 2 tablespoons red curry paste
1 cup frozen baby peas
1 cup baked tofu, diced small
1/8 teaspoon red pepper flakes
1 teaspoon soy sauce or tamari
Heat the oil in a soup pot. Add the onion and garlic and sauté over medium heat until golden.
Add the coconut milk, water, carrots, cabbage, lemongrass, ginger, red curry paste, and peas. Bring to a boil, reduce heat, cover, and simmer for 3 to 5 minutes, or until the vegetables are cooked tender-crisp.
Add the baked tofu and simmer another 1 to 2 minutes uncovered.
Stir in the red pepper flake and soy sauce. Remove from the heat. Cover and let stand off the heat for 15 to 20 minutes.
Heat through before serving.
Adjust seasonings to taste.