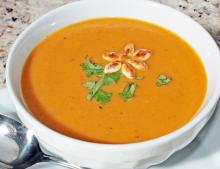 Large zucchini. You know the ones; monster zucchini that looks like it could win an arm-wrestling contest?
If you don't have one growing in your garden, take the next one offered to you by your neighbor or family member, or pick one up at your local farmers market.
Then, you can go home and make this soup! You'll be glad you did. It's delicious!
1 large zucchini, (or several small) 4 - 6 cups cooked
2 cups baby carrots
1 medium yellow onion, quartered
2 large cloves garlic
4 cups vegetable broth
2 teaspoons curry powder
1/2 teaspoon sage
tiny pinch of cayenne
dash of freshly ground nutmeg
salt and pepper to taste
1 cup almond milk
2 tablespoons freshly chopped cilantro (plus more for garnish)
toasted zucchini seeds (optional)
Preheat oven to 400°
Remove ends from the zucchini and cut the zucchini in half.
Cut each half in half again, then drizzle the flesh side with olive oil and season with salt and pepper. Place all four pieces, flesh side down onto a large baking sheet.
Place the baby carrots, onion, and whole garlic cloves on a second baking sheet. Drizzle with two tablespoons of olive oil, sprinkle with a dash of salt and pepper, and toss to coat.
Place both baking sheets in the oven and roast for 45 minutes to 1 hour, turning the carrots and onion with a spatula every 20 minutes. Once the vegetables are fork-tender, remove them from the oven and set them aside to cool.
Meanwhile, add the vegetable broth to a large pot, along with the curry powder, sage, cayenne, and nutmeg. Heat slowly over medium-low heat.
When the zucchini is cool enough to handle, scrape out the seeds and set them aside. Scoop out the flesh of the zucchini and add it to the pot with the rest of the vegetables. Turn the heat to medium-high and bring the mixture to a boil, then reduce the heat to low and simmer for 10 minutes.
Remove the pot from the heat. Using an immersion blender, blend the soup until it's completely smooth. (If you don't have an immersion blender, use your regular blender working in batches and blending the soup until it's completely smooth). Cool slightly before blending.
Stir in 1 cup almond milk. Turn the heat to medium and reheat. Remove from heat and stir in 2 tablespoons freshly chopped cilantro.
To use the zucchini seeds for garnish, place them in a skillet over medium-high heat for a few minutes with a teaspoon of oil and a pinch of sea salt. Keep them moving just until they begin to brown, about a minute or two.
Garnish with chopped cilantro and toasted zucchini seeds.
Contains
Carrot
Cilantro
Garlic
Milk (non-dairy)
Oil
Onion
Zucchini